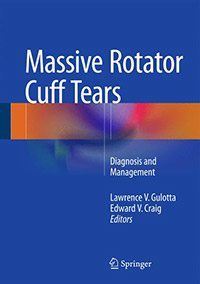 Two highly specialized orthopedic surgeons in the Sports Medicine and Shoulder Service at Hospital for Special Surgery have co-authored a new textbook on massive rotator cuff tears, seeking to provide a guide to best practices for this challenging injury.
Lawrence Gulotta, M.D., and Edward Craig, M.D., and say a theme throughout the book is that patients with similar findings on x-rays and MRIs may have very different clinical manifestations, and ultimately, treatment recommendations should be based on their symptoms, goals and expectations.
The rotator cuff is the group of tendons and muscles that surround the shoulder joint. A torn rotator cuff can cause significant pain and make it difficult to lift one's arm. Everyday activities such as combing one's hair or putting on a coat can present a challenge.
"Rotator cuff injury is the most common cause of shoulder pain, and rotator cuff repair is the most common shoulder operation in the world," Dr. Craig noted. "As the population ages, and individuals wish to remain active, we are seeing more and more patients with very large, or massive, rotator cuff tears. These tears can be very difficult, if not impossible, to fix. We wanted to provide health care professionals with a textbook that could guide them through all of the treatment options."
The 163-page book, titled, "Massive Rotator Cuff Tears: Diagnosis and Management," presents a logical, comprehensive approach to treating a patient with a large rotator cuff tear.
"There have been several books that have addressed the treatment of routine rotator cuff injuries," Dr. Gulotta explained. "This is the first book, however, that focuses on the treatment of very large tears and covers everything from non-operative management, to arthroscopy, and finally joint replacement."
The book begins by discussing the structural and functional manifestations of massive tears and goes on to cover the diagnostic work-up, including imaging. The text also delves into the use of biologics and patches, tendon transfers, hemiarthroplasty and reverse total shoulder replacement. A practical treatment algorithm for patients with massive rotator cuff tears is included.
Prominent experts in the field contributed chapters covering specific areas of expertise. Drs. Gulotta and Craig edited the text, also contributing as writers.
"Each chapter opens with pearls and pitfalls covering the main key points for quick reference," writes the publisher, Springer. "As such, it will be an excellent resource for orthopedic surgeons, sports medicine and shoulder physicians, physiatrists, physical medicine and rehab specialists, and occupational therapists."
The textbook is available for purchase on Springer.com and other websites that sell books.
About Hospital for Special Surgery
Founded in 1863, Hospital for Special Surgery (HSS) is a world leader in orthopedics, rheumatology and rehabilitation. HSS is nationally ranked No. 1 in orthopedics, No. 3 in rheumatology and No. 7 in geriatrics by U.S.News & World Report (2014-15), and is the first hospital in New York State to receive Magnet Recognition for Excellence in Nursing Service from the American Nurses Credentialing Center three consecutive times. HSS has one of the lowest infection rates in the country. HSS is a member of the New York-Presbyterian Healthcare System and an affiliate of Weill Cornell Medical College and as such all Hospital for Special Surgery medical staff are faculty of Weill Cornell. The hospital's research division is internationally recognized as a leader in the investigation of musculoskeletal and autoimmune diseases. Hospital for Special Surgery is located in New York City and online at www.hss.edu.